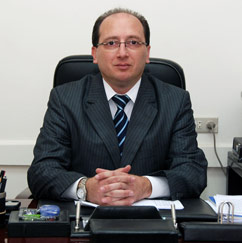 Message from the School Principal

I'm pleased to welcome you at Kalousdian-Nubarian Armenian School. Here, we feel proud of our school, its administration and staff and what we are most proud of is our dear students.

It goes without saying that the future is based upon science and knowledge as well as skills and good education. Therefore, we here at Kalousdian-Nubarian Armenian School, provide a balanced and integrated education including Academic, Physical, and Cultural activities which leads to having a learner capable of facing future and life challenges and to be a productive member of society.

The school administration and the teaching staff are also dedicating themselves to help the students achieve high quality education and raise their spirit of the Egyptian Citizenship as well as the preservation of their Armenian Cultural Identity.

You may as well consider Kalousdian-Nubarian Armenian School as a home for you, therefore, if you have any inquiries or constructive ideas,do not hesitate to communicate with the school management, because it is through teamwork, we can achieve the progress and supremacy we seek for both our school and our students.
With regards,
Simon Sarkis Chamkertenian
School Principal